I just finished reading the 37signals book reWork. It is a very interesting book that I recommend.
If you are one of these guys living in the cloud, using google docs, or zoho, online calendars… then you probably also use online task management tools. Maybe you are happy to use your outlooks todo lists, or you do it in the cloud using Google tasks or remember the milk.
If you work with clients then you are probably looking for a way to manage your tasks, sort of ticketing system but not necessarily for IT projects, a way to organise your work and the work of your team: a project management tool in the cloud. The king up to new has been  37 signal's star product basecamphq (click here to see the tour).
Now you have other players in the market that do it equaly or better than bascamp and that you should consider:
This is the one I use. It is free and I can create a space for each of my clients. They can also create a free account and add tickets or tasks to it, that I can customize in terms of organising the fields, milestones, etc.. (content, newsletter, technic) etc…
I like assemble because I can track the time I spend on a ticket, so at the end of the month I can bill by hours of work if I wish. You can have a wiki, upload files, etc…
They just launched version 2. Very very nice. I just opened an account. It is the more social oriented ticketing system. You can add tickets or tasks via IM, email, they have a nice iPhone app… very nice. Simple though. You cannot indent task or add projects but you can have different workspaces add tags and link it to your calendar. It is nice to be able to feed it via IM, email or iPhone.

Screencast Producteev Two from Producteev.com on Vimeo.
Open source. The king tool for managing your files in a team. Try the demo.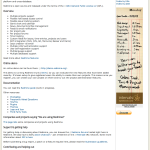 This one is an open source solution. Never tried. Demo here.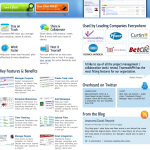 This is a good alternative to bascamp. It is cheaper and here you can see how they say it is better.
This is good tool to ticketing. This is the one I used when I was working at Shelter Centre and developing the new Drupal site. You can also track time (money) manage your code, etc… They support trac and check ins for code. Assembla does too.
Others: